The following was found in a 2nd-grade classroom in Kemerrer Wyoming. Archaeologists and Anthropologists are ecstatic over the find. I'll be publishing it in a three-part series. Read on:
My name is Kyle W. It's a short name, I know. My father could not fit my full moniker into the registry, or so I'm told.
On March 1, 1848, my family and I set out from Independence, Missouri in search of the lush plains and coast of the Oregon territory. This is our story.
March 1, 1848.
My Father, EBV, was a farmer from Illinois before he set us off down the Trail. We raised beets at a time when beets were unpopular, he tells me. His reasons do not matter. We will follow him wherever he goes--he is our Pa. Today, Pa took me and my three siblings--JBIII, Richard B, and Stacey A--to Matt's General Store to buy provisions. Pa tried to buy sufficient amounts of food, expensive clothes, ammunition, and wagon parts (in case our wagon breaks down), but he seemed almost proud that he could not buy enough to last the whole way. When I asked why this was, Pa said "Because we'll finish with triple the score as those dern Bankers from Chicago who have it easy." I don't understand what he means by score, but I'm assuming it means assets in Oregon. Maybe farmers are entitled to more land. Because we are so poor, Father only bought four oxen. Why Matt is selling oxen out of his General Store is beyond me, but we're grateful he was. It really simplified our purchase. Below is a picture of Matt.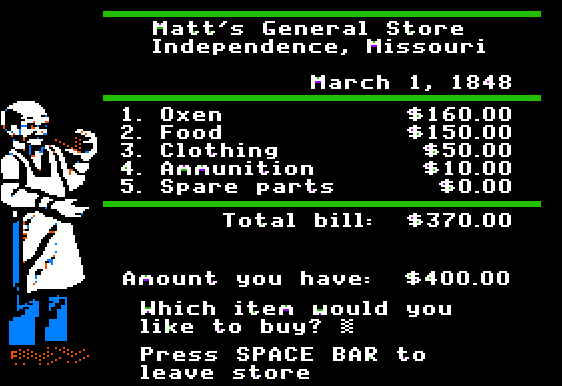 He scares me.
March 7, 1848.
After setting a steady pace, we traveled about 100 miles and pulled our wagon up to the Kansas River crossing. It was a cool day, our health was good, and we were ready for our first big river crossing. We spoke with some of the other people there, including one stranger who told us: "Can't afford to take a ferry. We're making our wagon into a boat. We'll turn it over, caulk the bottom and sides with pitch, and use it to float our goods across. Have to swim the animals Hope it doesn't rain--the river's high enough." Pa thought that was a good idea. I'm not so sure. The river looks rough, about 6 feet deep at the crossing. "Imagine the score!" Pa said. I still don't understand what he means, but I think it's a good thing.
March 8, 1848.
After waiting a day for the conditions to improve, the river miraculously dropped 3 feet overnight!
We'll be caulking the wagon and floating her across the river tomorrow.
March 9, 1848.
SUCCESS! We had no problem floating the wagon down river... now it's on to the great WEST!