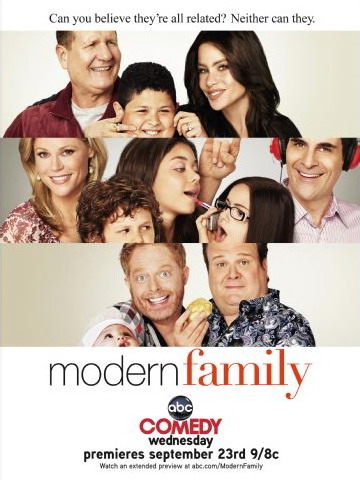 Dear
Modern Family
,
You make us laugh, cry, and generally feel good about ourselves and our family.
My wife thinks I'm Phil--delightfully clueless and a lover of accents and fun. I hope I'm at least a bit less pervy, though.
I think she's Claire--way too cute to be with me and well aware of that fact.
Your genius, my dear Modern Family, is that we can all relate to you in some way or another. We all have
that
in-law; we all have
those uncles
; we all have brothers, sisters, cousins, relatives, etc. who adore spending time with us, even though we all drive each other crazy.
And you relate it in
hilarious
, often
zany
ways--and we thank you for the laughs. But then you ground it in the familiar and the poignant--and we thank you for the life lessons.
All in all you just make us happy.
Thank you, Modern Family. Thank you.
Love,
ebv & erv