I woke up this morning and found this article. Imagine my surprise!
BYU BOARD OF TRUSTEES TO TAKE OVER BYU FOOTBALL PROGRAM
In wake of General Conference, LDS Church Leaders Assume Control of "Sinking Ship."
Is it timeout already for Bronco Mendenhall's reign?
Provo, Utah (BQ)
In a surprise move Wednesday evening, only days after his remarks to the Church of Jesus Christ of Latter-Day Saints regarding fan behavior and civility in sporting events, President Dieter F. Uchtdorf, Second Counselor in the Church's First Presidency announced that, effective immediately, "the BYU Football Team will be under the direct supervision of the Board of Trustees, from athlete recruiting to in-game management."
A press release from the Church hierarchy was distributed Monday evening, following a meeting with the players and coaching staff at BYU. The document was signed by
all members of the BYU General Board of Trustees
: Chairman Thomas S. Monson, First Vice Chair Henry B. Eyring, Uchtdorf, and board members Russell M. Nelson, M. Russell Ballard, David A. Bednar, Steven E. Snow, Julie B. Beck, and Elaine S. Dalton. President Uchtdorf represented the Board at a press conference following the decision.
Uchtdorf
, a longtime Lufthansa pilot in his native Germany, amateur soccer player, and Second Vice Chairman of the Brigham Young University Board of Trustees, announced the decision on the heels of BYU's most embarrassing loss in decades--a 31-16 drumming at the hands of Utah State on October 1. "Put simply," President Uchtdorf stated, "the football team is not lifting where they stand. In losing to the Aggies, BYU effectively changed their course by, admittedly, only a matter of degree. However, in piloting parlance, a change of mere degree can often lead to disaster. We as a Board are looking to avert disaster and put this program back on the proverbial map."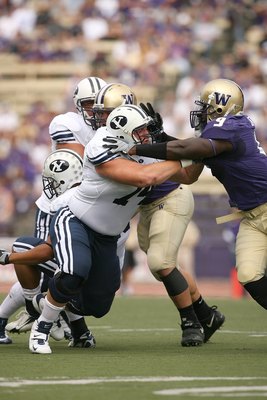 BYU Pounds former PAC-10 Powerhouse Washington in Provo.
BYU started the season with an impressive win over longtime PAC-10 powerhouse Washington. While the Huskies had been the league doormat in recent seasons, expectations were high on the West Coast that team, led by former BYU quarterback Steve Sarkisian, could be a sleeper and even potentially vie for the conference championship. BYU ultimately defeated Washington at LaVell Edwards Stadium in Provo, upsetting the Huskies 23-17 in heroic fashion. With hopes high in Provo, little could the Cougars imagine how far, or how quickly, they'd fall.
With four consecutive losses--to Air Force, Florida State, Nevada, and last week's humbling defeat at Utah State--the Cougars are off to their worst start since 1973. Coupled with the surprising firing of defensive coordinator Jaime Hill, the BYU program looked on the verge of collapse.
Mendenhall breathes a sigh of relief.


In his remarks to reporters following the publication of the Board of Trustee's decision, head coach Bronco Mendenhall appeared visibly relieved. "Now I don't have to worry about the Xs and Os, team meetings, position battles, and film sessions. I can now focus more on the Friday Firesides and attending corporate training," Mendenhall said. When asked how the change could drastically affect the program, Mendenhall immediately quieted speculation. "If it helps our team execute at a higher level, interpose our will upon others, implement a more robust management vector, win the hearts and minds of the people, and achieve a more efficient point margin per defensive output, then yes, I'm all for it."
In a moment of candor, coach Mendenhall revealed to the press some of the reasoning behind the perplexing decision. "I think, ultimately, the decision came down to our failure to execute in crucial moments in the game. While we are improving, that trajectory of improvement, when calculated against a typical sine-curve wave function, was not upward to the point where the y-axis, and subsequent wins, could intersect the x-axis, full investment, this season."
President Uchtdorf, for his part, did not pull any punches. "With all due respect to coach Mendenhall, they have been awful. And this coming from a man who thinks playing football with your hands is silly to begin with." Following laughs from the press corps, Uchtdorf continued, albeit more ponderously. "President Monson firmly believed that he, Elder Eyring, myself, and Elders Nelson and Ballard could be a more powerful and protective offensive line than that currently constituted at BYU."
With a twinkle in his eye, Uchtdorf half-jokingly said "Believe me. President Monson could pancake [former TCU defensive end and consensus All-American]
Jerry Hughes
tomorrow. You wonder why we all laugh so heartily at his jokes...well, now you know. He's terrifying in a three point stance."
Kariya getting tackled; a common sight this year.
When asked what ultimately prompted the decision, Uchtdorf surprised the group by saying "That stretch play to Brian Kariya against Nevada on fourth and four. President Monson almost choked on his nachos. That's when we knew there was a problem." When asked to elaborate, Uchtdorf reiterated, "[Offensive Coordinator Robert] Anae called a
stretch play
. On fourth and four. And you give the ball to Brian Kariya? No amount of good living off the field can make up for poor play calling on it." After a pause, Uchtdorf, simply disgusted, summed up the frustration of BYU fans everywhere: "
KARIYA!
"
Details of the restructuring were not revealed in the press release, however speculation has it that
Julie Beck
, President of the
Relief Society
, will work as Receivers Coach. When contacted for comment on this story, Ms. Beck's camp simply stated that "As the ultimate source of relief for the quarterback, the receivers have a lot to learn regarding their role. We'll start on fundamentals tomorrow, beginning with charity, which in this context means catching the ball. We want the receivers to learn that, like charity, they
never
fail. And," Sister Beck noted personally, "if they
do
happen to fail, they'll be running what I term 'Called to Sprint.'"
The new BYU Coaching Staff
Among other rumored positions changes, speculation remains high that President Thomas S. Monson will assume offensive play calling with President Uchtdorf at the defensive helm. It remains to be seen what role President Henry B. Eyring will play in the revamped BYU system; however, many feel the former scientist would be a natural athletic director. When contacted for his reaction, current AD Tom Holmoe had "no comment."
Regardless of the results of this stunning decision, all parties agree that new meaning has been given to these lines in the BYU fight song, "Rise and Shout":
As we join in song, in praise of you, our faith is strong.
Cougar faithful might just have received the gift they'd been praying for.